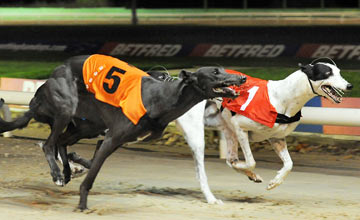 Adageo Bob (t5) helped sway the dam of the year voting
PICTURE: STEVE NASH
Greyhound Blonde Pearl wins GBGB Dam of the Year
  BY JONATHAN HOBBS9:40PM 11 JAN 2014
BLONDE PEARL has been announced as Dam of the Year for 2013, with the presentation due to take place at the GBGB annual awards gala at the Deansgate Hilton, Manchester on Sunday January 26.
The September 2003 bitch's third litter, by Hondo Black and whelped in July 2011, easily surpassed the achievements of the previous two with Adageo Bob (late Blonde Bobby) the star performer courtesy of victory in the inaugural British Breeders' Stakes at Nottingham and second place in Romford's Coral Essex Vase.
The litter also includes top eight-bend prospect Fearsome Liberty and Crayford Boxing Day Marathon finalist Mullpark Millkai.
However, it was the Category One achievements of Adageo Bob which swayed a judging panel comprising Breeders' Forum honorary secretary and treasurer Bob Gilling, vice-chairman James Mulvilhill, Greyhound Star editor Floyd Amphlett and Jonathan Kay of the Racing Post.
Others to come under consideration were Blonde Jeannie, Final Gold and Little Reaction.
Blonde Pearl's litter was bred by John Marriott, who kept Fearsome Liberty as part of the deal with owner Mark Currell. Marriott said: "That's great news, we've been nominated in the past but to win it is a real boost.
"Blonde Pearl came to me after her first two litters and was meant to go somewhere else, but I agreed to keep her and have one litter and, thankfully, it turned out well. She's been homed now so there won't be any more pups but this is nice recognition."
A small number of tickets to the annual awards are still available. At £70 per person they include a champagne reception, three-course meal, wine and dancing until late, and can be purchased by calling Lucy Dye at GBGB on 020 7421 3770.